ALL CONTENT IS PROVIDED STRICTLY FOR ENTERTAINMENT PURPOSES. UNCLE Z AND MYSELF MAKE NO REPRESENTATIONS OR WARRANTIES OF ANY KIND AS TO THE CONTENT, INCLUDING, BUT NOT LIMITED TO, IMPLIED USE OF AAS/PEDS, MEDICAL ISSUES OF ATHLETS, MEDICAL ADVICE. BY USING ANY CONTENT IN ANY WAY, WHETHER OR NOT AUTHORIZED, THE USER ASSUMES ALL RISK AND HEREBY RELEASES UNCLE Z AND MYSELF FROM ANY AND ALL LIABILITY ASSOCIATED WITH THE CONTENT.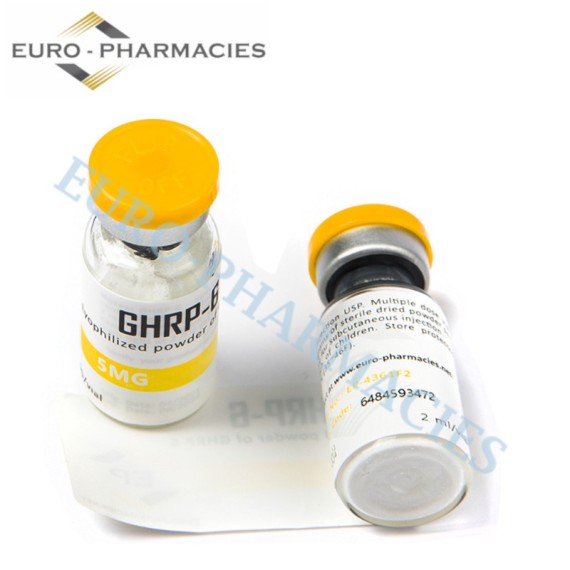 Supplier: Euro-Pharmacies
Purity: 98.22%
Appearance: White Powder
Unit Size: 5 mg/vial
Unit Quantity: 1 Vial
Batch No.: EP-0325B2
Synonyms: GHRP-6 Acetate
Storage: Lyophilized Fragment GHRP-6 is stable at room
temperature for 90 days,however it should be stored in a
freezer below -8C for any extended period of time. After
reconstituting GHRP-6 should be refrigerate at temperatures not to exceed 36 F.
GHRP-6
What is GHRP-6?
GHRP-6 is a growth hormone releasing peptide. It is a synthetic hexapeptide that stimulates the release of growth hormone from the pituitary. Being a met-enkephalin analogue, it includes non-native D-amino acids which cause the release of the GH. Most D-Aminos are not found in nature, "non-native" except as a residue within proteins.
GHRP-6 stimulates growth hormone secretion. This increase of the growth hormone levels can decrease body fat, increase muscle mass, and increase strength and stamina.
The release of growth hormones stimulated by GHRP-6 signals the liver to secrete an anabolic hormone specifically the Insulin-like Growth Factor (IGF-1), which has also been implicated in improving the body's ability to burn fat and build muscle.
How does GHRP-6 work?
There are six amino acids within the sequence of GHRP-6 which notify the brain to release growth hormones from the pituitary gland while obstructing the release of Somatostatin which is a peptide hormone that regulates the endocrine system, and will purposefully blunt the release of GH.
GHRP-6 initiates a ghrelin mimetic response, which stimulates the ghrelin receptors of the body. The ghrelin receptors enable the brain to send a signal to the pituitary gland to secrete the growth hormone. The secreted growth hormone then assists the liver to release IGF-1.
Because GHRP-6 is a Ghrelin Mimetic, it has one side effect that is desired by some body builder during the bulking phase. The most common side effects of GHRP-6 is extreme hunger which it produces within an hour of injection. As it increases your appetite due to a stimulating release of Gherlin, which is released naturally in the lining of stomach which results in gastric emptying.
Typical Dosage: 100 mcg-150 mcg
Dosage Frequency: 1-4 times daily
It is recommended not to eat or drink 30 mins before administering GHRP-6
Avoid consuming carbohydrates and fats before using GHRP-6, as higher sugar levels lower efficiency.
Other side effects may include:
• Increase the cortisol hormone in the body, which may lead to joint pain.
• Decrease in blood sugar levels which can cause severe Headaches.
• Glucose levels should be monitored while using the peptide, as a drop in blood glucose could be dangerous for the body.
Benefits may include:
• Increased energy level for enhanced strength, endurance, and stamina
• Increased muscle growth
• Improved healing and recovery time
• Improvement in the ease of weight loss
• Increased libido and sexual desire
• Enhances the development of hair growth and health
• Anti-aging benefits, such as decreased wrinkles
• Strengthening of the immune system and protection against diseases
• Decreased insomnia and improvement of sleep